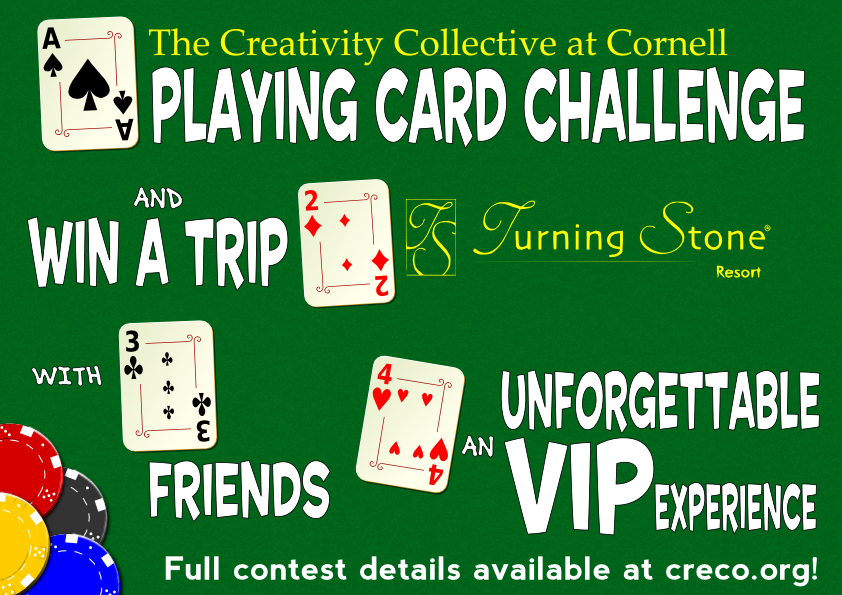 What will you create?
Play your cards right and win a VIP Experience at Turning Stone Resort! Form a team of up to 4 people and come up with your best creation out of formerly used playing cards. Playing cards in a casino have a short lifespan to prevent unlawful tampering. These "retired" playing cards typically get recycled, when they could be directly reused for new purposes. That's where you come in!
Using your own interpretation of the prompt "something you use every day," produce an imaginative creation that fulfills the three judging criteria: aesthetics, functionality, and originality. It can be anything! The best overall submission will win the Grand Prize VIP Experience! An additional winner will be chosen in each individual category to receive a VIP Experience for their team as well. As an added chance to win, the team with the most Facebook likes by the end of the judging period will receive a VIP experience too! You have FIVE chances to win a stay at Turning Stone Resort for an unforgettable experience!
Teams only pay $20 to enter, which will benefit the mission of Creativity Collective. The entry fee includes 4 decks of cards to start, and teams may purchase additional decks to complete their creation. More information can be found in the FAQ!
Grand Prize VIP Experience for "Best All-Around"
VIP Experience for "Best Aesthetics"
VIP Experience for "Most Functional"
VIP Experience for "Most Original"
VIP Experience for "Most Likes on Facebook"